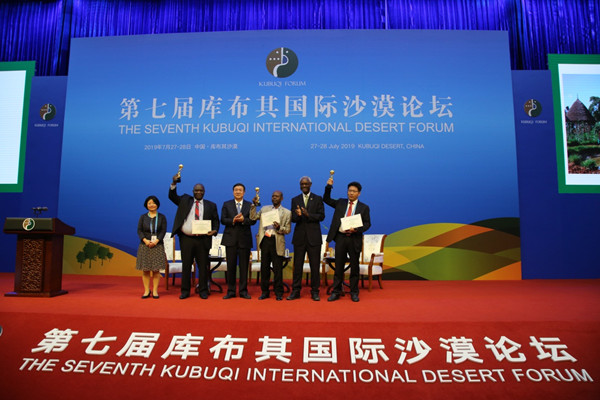 The UNCCD 2019 Land for Life Award was given to three winners at the awarding ceremony of the seventh Kubuqi International Desert Forum, which took place at the Elion Ecological Demonstration Area in Ordos, North China Inner Mongolia autonomous region, on July 27.
The Land for Life Award is dedicated to recognizing individuals, groups, organizations and businesses for their innovation and efforts towards achieving the Sustainable Development Goals (SDGs).
This year's land for Life Award goes to Yun Dan, incumbent head of the Department of Finance of Tibet autonomous region, the MERET project of the Ministry of Agriculture of Ethiopia and Mathieu Ouedraogo from Burkina Faso to honor their effective efforts in desert control and green development.
Ibrahim Thiaw, executive secretary of UNCCD, along with Wang Wenbiao, chairman of Elion Public Welfare Foundation, presented the awards.
Yun Dan played an active role in overcoming technological challenges to plant trees in the high-altitude Nagqu area of Tibet, alleviating poverty through ecological compensation by creating close to 300 000 foresting-related jobs.
The MERET project of the Ministry of Agriculture of Ethiopia was created to respond to the food crises of the 1970s. Since then, it has enabled the restoration of more than 2.5 million hectares of degraded watersheds in more than 72 districts, reducing food shortages by 50 per cent and lifting millions of people out of poverty.
Mathieu Ouedraogo from Burkina Faso was honored for his lifelong commitment in land restoration, developing and promoting contour stone bunds – a simple water harvesting technique combined with zaï planting, which has proven very efficient in empowering farmers of the Sahel region.
This is the third year that the Land of Life Award has been presented at the Kubuqi International Desert Forum. In 2015, the Elion Resources Group was recognized by the prize for its contribution to managing more than 6,000 square kilometers and lifting 102,000 people out of poverty. In 2017, the award was awarded to the Watershed Organization Trust from India, the UN Environment and Practical Action Sudan from Sudan and Pan Yingzhen from China.